These are my adventures in parts hunting for the used budget/performance PC build introduced here:
"Needy Healing" Used Parts Overwatch PC Build - INTRODUCTION
In this post, I will go into some details about how I collected the components for this gaming build and some of the reasons for selecting them. Feel free to skip through to
PART 3
if the short list provided in the introduction is enough, and you want to get right into the build action.
The first component that I obtained for this build was an Intel X3460 CPU for $32 on Ebay based on the tip from this video from the Tech Yes City YouTube channel:
Top 5 Gaming CPUs of 2017
The price was great for the CPU, but I had some trouble finding an LGA 1156 motherboard that I felt would be suitable as a daily driver in 2017 for this chip. I had several concerns. First, I wanted USB 3.0 as I often use external hard drives and SSD's to transfer photos, audio, and video files for editing. Second, I wanted SATA III 6G to take advantage of SSD speeds for snappy daily use. Third, in music production, I sometimes need an available PCIe card slot to interface with my recording studio audio infrastructure. Sure, this computer is not "mainly" slotted for that role, but among my friends who may end up with the computer, this is a more than probable scenario. After looking at motherboard specs for a while and not finding anything suitable, I actually scuttled this project and was about to call it a $32 loss and moved forward with an i5 2500K solution on the newer LGA 1155 platform and that will certainly be a story for another day, but after purchasing those components, I researched some more and discovered the ASUS P7P55D-E board which had early implementation of both USB 3.0 and SATA 6G. So, I circled back and in a late-night mis-guided decision, put in an offer (that was too high $100) on an EbayP7P55D-E board. Afterwards, I was hoping the seller would reject the offer, but he accepted so I was stuck with it! To make things worse, a few days later, I found the SAME motherboard on Craigslist for $60 that had an i5 chip on it with a CPU cooler which I felt was much more reasonable. So, again, in a buying frenzy, for no apparent good reason except I wanted to feel like I got "the right deal", I went ahead and bought the Craigslist unit and slotted it in for this build. So yes, I legitimately got my motherboard for this build at $60, but as expensive "tuition" I spent an additional $100 buying an overpriced version of the same board that I will have to do something else with later as well as kicked this project to 3rd priority as my "primary" project build is now shifted to a newer generation platform.
The CPU cooler that came with the motherboard was a Thermalright Ultra 120 which looked like a pretty standard 4 pipe 120mm number.
Based on a recommendation from another Tech Yes City YouTube video titled
Top 5 USED GRAPHICS CARDS for GAMING in 2017
, I found an EVGA GTX 970 SC on Craigslist listed at $140. I put in an offer of $120 and the seller accepted. As I was scrambling to meet him as soon as possible, he texted that he was moving and also had a monitor he was willing to let go for really cheap. I told him I really didn't have any more money as I was already digging a pretty deep ditch for myself on this project, but just out of curiosity asked if it was 144hz, and he said yes. . . so I asked how much. . . and he said $20, so I said, "I have no arguments except to give you another $20."! It was an Acer GN246HL in what appeared to be pristine condition. After my previous purchasing misadventures, I was feeling somewhat redeemed and started to believe that good deals and good people were actually out there in computer land.
The memory came from a Craigslist purchase for 32 total GB of PNY XLR8 DDR3 1600mhz in 4x 8GB sticks at $80. I split off two sticks (16GB) for this build. Overwatch only uses about 6GB but since I'm building as if it were a personal daily driver, 16GB it is at $40.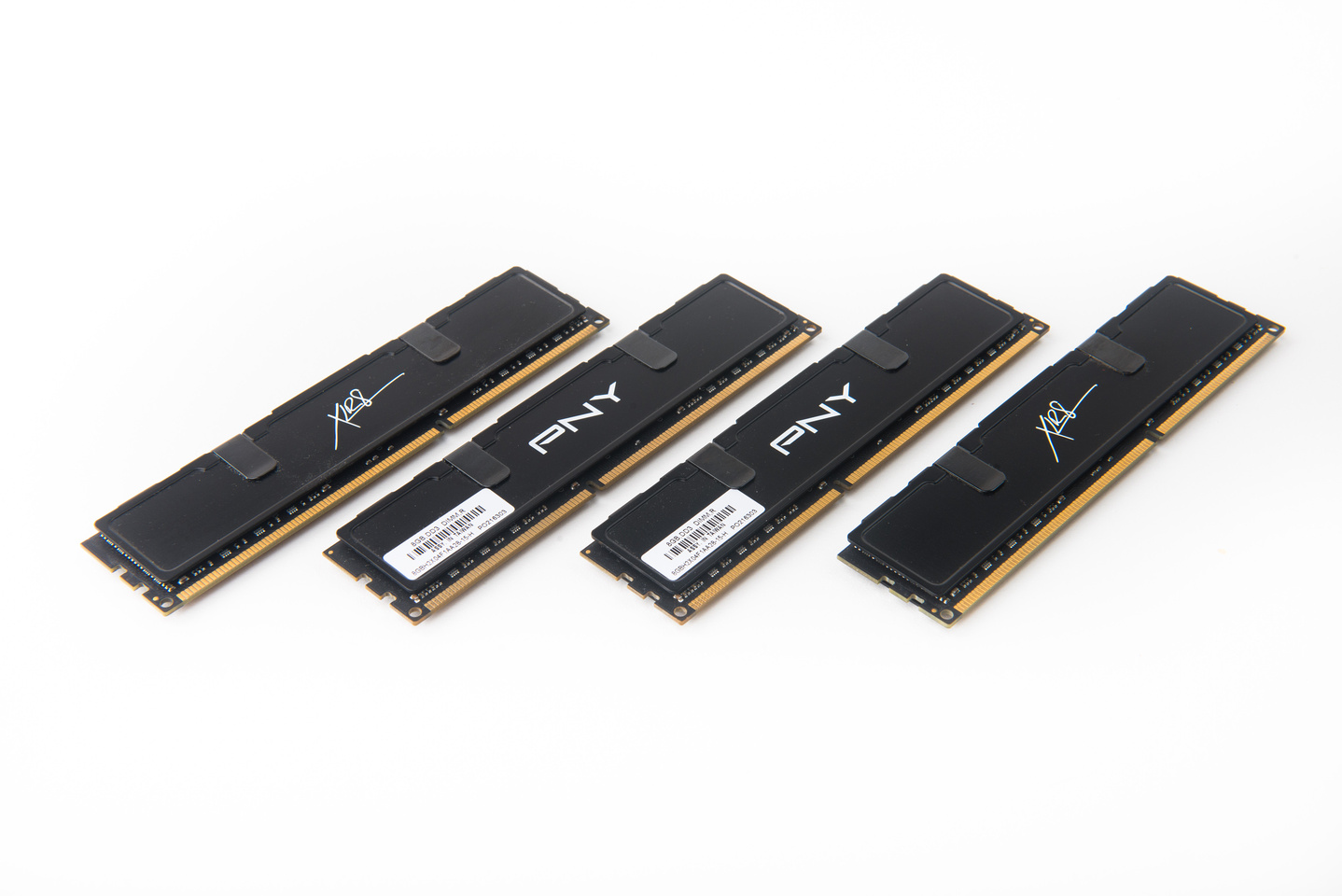 The case and power supply for this computer also came with a pleasant experience and a good story. Originally, I had spotted an X58 computer on Craigslist listed at a REALLY good price, so I asked the seller if he was willing to split the motherboard (a mistake). By the time I circled back and said I would be willing to buy the entire package, it was too late and long gone. I so wanted to do a 6 core 12 thread xeon build which is one of my back-burner wishes especially with Ryzen coming on the scene, but I texted back and thanked the man for not price gouging and making building fun for the community. He came back with a text saying he had a nice power supply (FSP Group FX700-GLN) in a case that he would be willing to let go for $20 if I was interested. At first glance, I had no clue what either of these parts were, but found an online review of the power supply which was 700W, and was deemed high quality and a decent performer by the reviewer.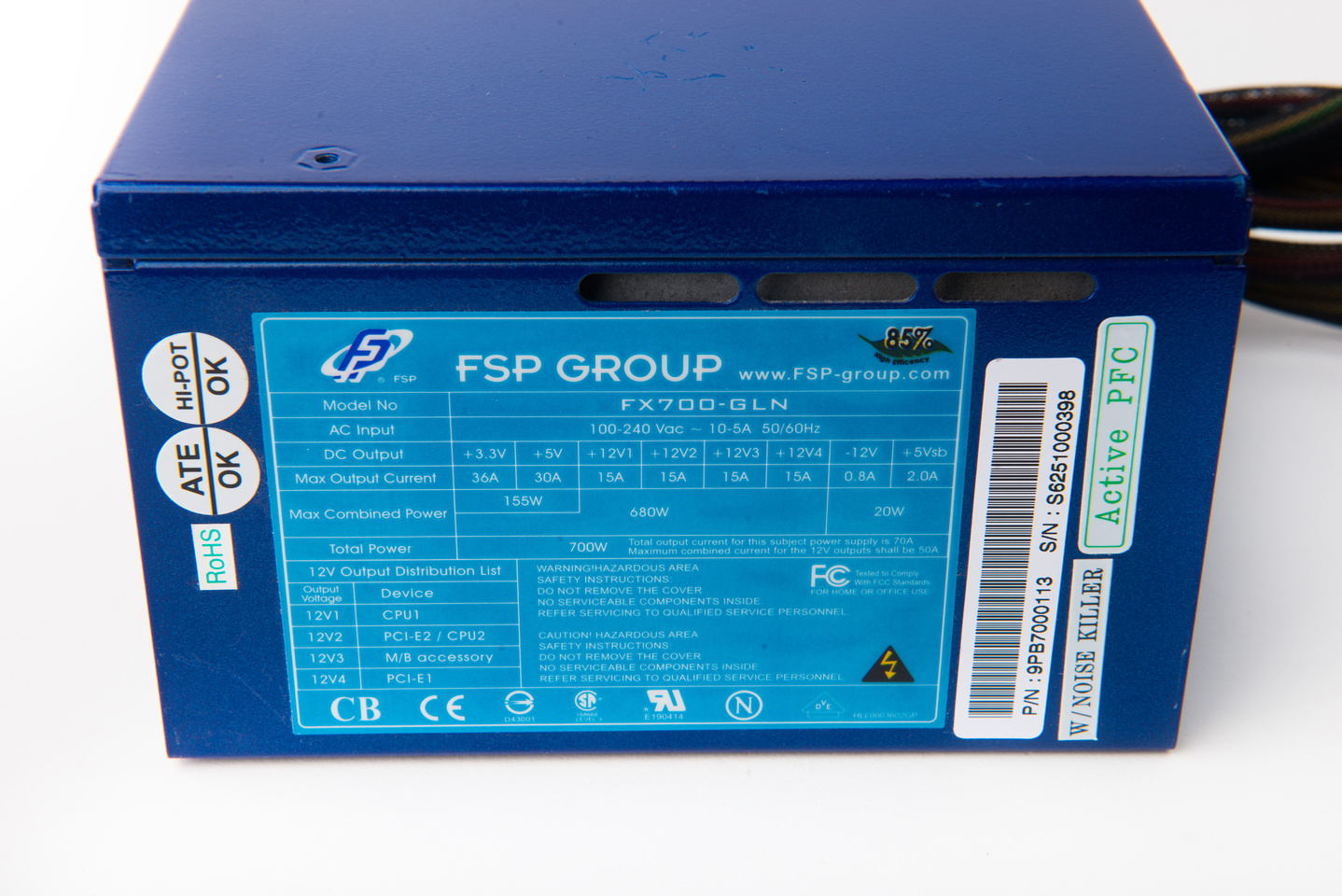 The case also looked interesting, but I dismissed it at the time because it lacked the straight-through airflow I felt would be needed on an overclocked build. . . but, glancing at it in the corner for a few days, the quality of the all aluminum construction and interesting front door layout drew me in, and I started envisioning a solution that would require a lot of cutting! The case is a Thermaltake Tsunami without side window. For full disclosure, I did purchase a Corsair Spec01 case on Craigslist for $25 that I was going to use for the build, but this one ended up MUCH cooler in my opinion and I got to learn some case modding.
After using a computer with an SSD for the OS, I simply can't go back. So any build that I do will have one. I found a guy on Craigslist who apparently parts out a lot of server hardware who stocks a variety of OEM SSD's at very reasonable prices. I got two drives from him one HP and one Dell OEM (250GB Samsung 850 pro equivalent) for $70 and $60 plus $7.00 for shipping since the items were so small and gas/tolls would cost more than shipping for me to pick them up. So, the drive for this build ended up being $63.50. Please contact me if you want the contact information for this guy! He is happy to sell more, and I found the drives 100% as described and reasonably priced.
I agonized a bit over a new part that would add nothing to the actual system performance, but building as if this would be a personal daily driver, I opted for a 5.25" drive bay adapter that would allow mounting 2x SSD's and 1x 3.5" hard drive. With my planned case hacking, I would lose usable drive bays, and this would allow a build that could easily accept an additional SSD and 3x internal 3.5 inch hard drives total (and a 4th with a little more modding) while not sacrificing airflow. This made the case package viable in my personal opinion as a long term solution that could be flexible and allow the computer to be slotted into a variety of work applications if necessary. So, for $10, I purchased an Icy Dock FLEX-FIT trio.
Modern cases especially air cooled overclocked systems tend to use a lot of fans. I may be over-cautious, but I don't like stressing motherboard power more than necessary so I like prefer to run my fans on PSU power directly, but like to utilize PWM fan control and fan speed monitoring. So, I've had good luck with fan hubs that draw power directly from the PSU and get PWM signal from the motherboard. This time, to save cost, I am trying out a PWM splitter cable from Ebay for $4.50.
For fans, I will be using Arctic F12 PWM fans to be quite honest because they are cheap when purchased in 5-packs on Amazon ($5 each). They also have fluid bearings and carry a 6 year warranty which I think is great. Performance at low RPM is good, and I'm hoping these will work out as other high quality fans can blow up a budget pretty fast!
That's all for the parts in the is project. In
Part 3
, I will dive into the component testing and case modding adventures.
Below are direct links to the rest of this build series:
"Needy Healing" - Used Parts Overwatch PC Build - INTRODUCTION
"Needy Healing" - Used Parts Overwatch PC Build - PART 3 (case hacking)